Oh, the new year and those resolutions to get fit! If you're having trouble casting off your couch potato, we've compiled our best tips to get you moving. Plus, we have a list of Cookeville gyms and fitness facilities, with programs and personal trainers to help you out.
Top Tips on How to Get Moving and Where to Work Out
I Have to Do What?!
The first thing you should know is that you don't need to complete a triathlon or become an American Ninja to be healthier. As the Center for Disease Control puts it, you just need to "move more and sit less." You need a 150-minute mix of aerobic activity (think "cardio" or increased heart rate) and strength training each week. That averages out to about 30 minutes each weekday – and you don't even have to do it all at once.

Minimum Recommended Activity Levels Per Week
Cardio – Get your heart beating faster than usual.
2.5 to 5 hours of moderate activity,
or 1.25 to 2.5 hours of vigorous activity.
Muscle Strengthening – Make your muscles work harder than usual.
Work all major muscle groups at least two days a week.

Of course, it's ok to go beyond these recommendations. The more you move, the more benefits you get.

Resources:
To find out what counts as aerobic and strengthening activities and for exercise guidelines for seniors, kids, and pregnant women, see the CDC's Physical Activity information.

Speaking of Exercise Benefits . . .
By now, we're all pretty sure exercise is good for us, but do you know how good? Yep, it helps with maintaining a healthy weight and it keeps our heart healthy, but did you know that exercise also reduces your risk of cancer? Find out which types of cancers may be impacted and read more about the Benefits of Exercise.
Fitness Centers and Gyms in Cookeville TN
Now that you're ready to get moving, your local, Cookeville gyms (along with their expert staff and personal trainers) are prepared to help. For your cardio workouts, check out their bikes and treadmills, but also things like swimming, CrossFit, basketball, and martial arts. For strength training, choices range from free weights, exercise machines, resistance bands, and some yoga positions.
2019 N Willow Ave, Cookeville, TN 38501
(931) 526-1646
Remember the old Racquet Master? It's a whole new gym now! General manager James Young understands the importance cardio plays in heart health as well as cancer prevention and recovery. He shared, "We have a member who was diagnosed with cancer. He continued to come regularly for workouts. Now his cancer is in remission, and he continues to come almost every day."
Fitness Master offers a variety of fun cardio workouts. In fact, the whole front of their gym is dedicated to cardio.
2 racquetball courts
Treadmills
Exercise bikes
Stair masters
Ellipticals
Arc trainers
Aerobic fitness classes
Fitness Master also has a functional fitness area with resistance machines for muscle strengthening.
Row machines
Ski ergs
Assault bikes
Echo bikes
To top it all off, Fitness Master's newest personal trainer is also a nurse! Go give Fitness Master a try. You can relax in the sauna when you're done.

26 W 4th St, Cookeville, TN 38501
(931) 854-9025
"Lead with your heart," says owner Mary Boring. "A Better Me Yoga is about becoming your best self: starting with deep breathing and physical exercise to relax more and become kinder in everyday life."
A Better Me Yoga is best known for their hot yoga classes. Studio room temperatures range from the mid 70s, all the way up to 103 degrees of infrared heat to relax muscles and joints. By breathing deeply while stretching out tight muscles, students practice activating their parasympathetic nervous system, which could lead to a more relaxed state and lower heart rate even after class is over.
This is an open studio that believes anyone can do yoga: all ages, sizes and experience levels. The studio is open every day, with 17 classes to choose from each week. There's a range of difficulty levels, from restorative yoga for deep breathing and stretching to hot power yoga, which involves more cardio. The studio also offers workshops on eating healthier and dealing with trauma.
Ready to become a better you?
294 West Broad Street, Cookeville, TN 38501
(931) 510-3882
"All our classes, which involve elements of calisthenics, gymnastics and strength training, really revolve around cardio and endurance," says Cory, co-owner of KnightsPTR. "Your heart is your body's motor. If you're fit, then you have the ability to perform more in real-world situations and stay able-bodied even as you age."
KnightsPTR classes are all about community and helping you reach your physical goals. The instructors are active coaches that tailor each exercise to the individual. They always accept new members, no matter their ability, and want to help their members improve or recapture their fitness.
"Your life can change dramatically, and it's never too early or late to start improving," says Cory.
Their advice is simple: just show up to class. You can even bring your kid if you need to. From there, they'll coach you to reach your fitness goals. A local physical therapist that comes to consult with gym members free of charge, and many people come here for rehabilitation exercises.
Several members have been coming regularly since KnightsPTR opened in 2011. The instructors aim to make the workout classes fresh, engaging and entertaining to the members, so they never get bored of coming 2, 3 or 6 days a week. Most members are in their 20s to 40s, and there are several teenagers as well as people in their 60s.
The gym also puts on healthy weight loss and healthy living challenges to get team members excited about reaching their goals. If you're looking for a group of people to help you stick to your goals, check out KnightsPTR.
599 Vickers Place, Suite A, Cookeville, TN 38501

(931) 349-0446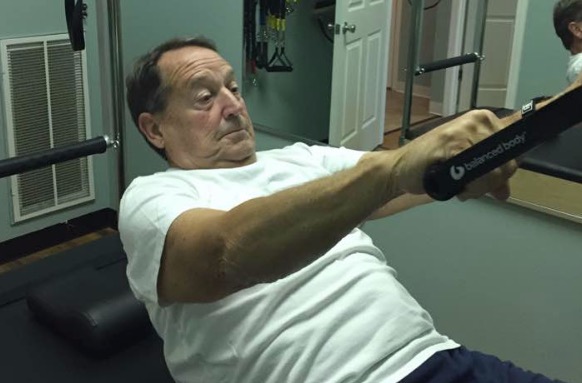 "Pilates is good for strength and flexibility," says Premier Pilates owner Jan Thorne. "It focuses on strengthening the abdominal muscles as well as the muscles that support the back and spine (also known as "core" muscles). In fact, I measure a half inch taller now than before I started pilates!"

Premier Pilates offers highly individualized instruction in small class and private settings. Most classes only have 3-4 people, and duet lessons are also available. Many students come 2 days a week, and their ages vary from early 20's to late 70's. It's not unusual for Pilates clients to stay into their 80's and 90's. There are several cancer survivors who exercise here as well.

"Pilates is meant to be performed under guidance," says Jan. "Our instructors undergo extensive training to make sure our students use the proper form."

Pilates teaches the proper breath pattern for every exercise, and includes stretching at the beginning and end of each class. The exercises are designed to support healthy joints, decrease back pain, and keep or return the posture to correct body alignment. Many people find it to be a cardio workout as well, but it is non-aerobic and focuses on precision and coordination more than cardio.
Premier Pilates has been in business since 2016 and welcomes new students. Come see if Pilates is the right workout for you.

235 Raider Dr, Cookeville, Tennessee 38501
(931) 528-1133
The Putnam County Family YMCA offers 2 great programs for cancer patients and survivors!
The YMCA Cancer Recovery Program is a free outreach program available to anyone who is currently undergoing cancer treatment or who has received treatment in the past 5 years. Go Pink is a free program for anyone who has ever been diagnosed with breast cancer. Both programs include:
6 month YMCA Membership
Personal Training with a Cancer Exercise Specialist
Nutrition Counseling with a Health Coach
Assessment and Education with a Lymphedema Specialist
Weekly Restore Support Group Classes
Weekly Group Exercise Classes
Monthly Educational Seminars
Encouragement and Support
120 S Willow Ave, Ste D, Cookeville, TN 38501
931-526-8598
560 S Jefferson Ave, Ste B1,Cookeville, Tennessee 38501
(931) 526-2500

180 C.C. Camp Road, Cookeville, TN 38501
(931) 526-9767
The Cane Creek Gymnasium has open sports hours as well as dedicated cardio classes. They also host a diet and weight class put on by the City of Cookeville.

139 E Broad St, Cookeville, TN 38501
(931) 520-8980
(931) 284-4858
This yoga class meets at various locations around town, combining breathing, gymnastics and dance with yoga. On Mondays, Wednesdays and Fridays the class meets at Tennessee Tech (in the aerobics center at the Fit) and the class is open for anyone to join, even if you don't have membership to Tech's gym. You can also find The Bend Class at A Better Me Yoga and Cookeville Jiu Jitsu. Check their facebook page for a current schedule. Private classes are also available.

---
Do you have more information on Gyms in Cookeville? Leave a comment below or email canceralliance@premierdiagnostic.com